Executive Director
Mark Scholz, MD – Mark Scholz is a PCRI board member and co-founder. He became Executive Director in October 2006, and can be contacted via the Los Angeles office at 310-743-2116 or mscholz@pcri.org
Medical Director
Dean Foster, MD - Dean Foster joined PCRI as Medical Director in September 2012. Dr. Foster graduated from University of California, San Diego in 1972 with a focus on molecular biology. He completed his medical training at the University of Southern California in 1976 and his residency at USC in orthopedic surgery in 1981.
Dr. Foster has been personally affected by prostate cancer. His father, who was initially treated with radioactive seed implantation, later developed a cancer recurrence requiring hormonal treatment and chemotherapy, and ultimately succumbed to the disease.
While caring for his father, Dr. Foster found that he himself had prostate cancer. He initially selected a monitoring program called active surveillance, and subsequently underwent successful treatment with surgery.
Dr. Foster's firsthand experience with cancer, his love for research and his passion to empower patients in their journeys has led to his joining PCRI in their fight against prostate cancer. He can be reached in the PCRI office at (310) 743-2116 or dfoster@pcri.org.
Chief Operating Officer
Cathy Williams, MBA - Cathy joined PCRI as Chief Operating Officer in April 2011. Cathy is responsible for the day-to-day activities of and developing the strategic direction for PCRI. She can be reached in the PCRI office at 310-743-2116 or cathy@pcri.org
General Manager/Grants
Thomas Gallatin, MPA – Tom joined PCRI in October 2007 and can be reached in the Los Angeles office at 310-743-2116 or tgallatin@pcri.org
Helpline – Senior Educational Facilitator
Jan Manarite - Jan is the wife of a prostate cancer patient. She joined PCRI in October 2001 and works handling Help Line calls, e-mails and speaking publicly. Jan and Dominic's story of empowerment has caught the attention of local newspapers, magazines, and TV stations. Her passion is to spread education about important PC issues throughout her neighborhood of Lee County. Jan can be reached in Sanibel, Florida at 310-743-2116 or jmanarite@pcri.org
Helpline Facilitators 
Silvia Cooper - Silvia is the daughter of a prostate cancer patient. She has been navigating the prostate cancer "terrain" and advocating for her father since his initial diagnosis in 2000. Ms. Cooper joined PCRI in November 2011, and is the newest member of the PCRI team. She works part-time in the Los Angeles office, responding to Help Line calls and e-mails. She can be reached at scooper@pcri.org.
Ferd Becker - Ferd Becker is an Active Surveillance patient who has worked with both Dr Stephen Strum and Dr Charles "Snuffy" Myers. He has a long family history of prostate cancer and became very educated about prevention, prostate MRI, color Doppler, and many other issues. Ferd is a semi-retired facial plastic surgeon from Florida, and can be reached at help@pcri.org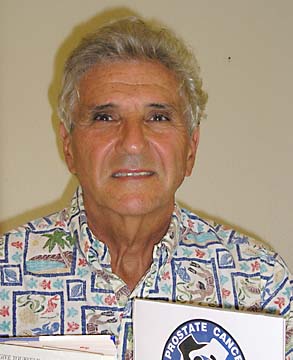 David Derris
- David was treated for prostate cancer in 1996 after being mis-diagnosed with the disease. His experience has motivated him to become a student of prostate cancer, and an advocate, educating men to become empowered to face the many challenges presented by a prostate cancer diagnosis. He has worked with the Maui Unit of the ACS, Maui and Oahu UsTOO Patient Support Groups, the Hawaii Prostate Cancer Coalition, and in 2004 with Harry Pinchot, Jan Manarite and Jim O'Hara at the PCRI. After completing the PCRI Mentoring Program in August of 2012, David was invited to rejoin the PCRI Helpline team. He lives in Honolulu. He can be reached at
help@pcri.org
.
 Programs Coordinator
Laurie Sorrow -  Laurie Sorrow joined PCRI as Programs Coordinator in June 2011, and is a certified notary for the state of California.
Prior to joining PCRI, she worked as a retail and events manager in her home state of South Carolina. She brings enthusiasm and energy to all of PCRI's programs. Ms. Sorrow resides in Long Beach, California.
Ms. Sorrow can be reached in the Los Angeles office at laurie@pcri.org.
Senior Writer-Editor
Madhu Rajaraman, MA - Madhu joined PCRI as Senior Writer-Editor in September 2011. She holds a dual Bachelor's degree in English and Psychology from Rutgers University, and a Master's in Multimedia Journalism from the University of Maryland. Prior to joining PCRI, Madhu interned for Cambridge University Press in New York City and the American Journalism Review in Maryland, and worked as a multimedia journalist and online producer for both Maryland's Capital News Service and the News21 Carnegie-Knight Fellowship Program. She can be reached in the PCRI office at 310-743-2116, or at madhu@pcri.org.
Communications Intern
Travis Williams - Travis is a Student at CLC (Cottonwood Leadership College). He can be reached in the PCRI office at 310-743-2116, or at travis@pcri.org